Golden Retrievers
Camrose Muzetta of Mastamariner
20/01/97 - 05/08/04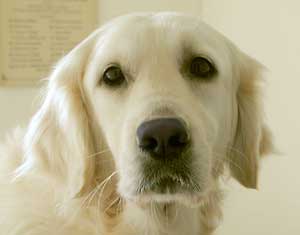 A golden retriever in a paler shade of cream
This page is a tribute to our lovely Lucy who we tragically lost to aggressive mammary cancer at just 7 years of age. Lucy was bought in to bring a new blood line to our little kennel, sadly that was not to be but she brought us immense pleasure and was always very much loved, she lived a life full of fun and cuddles. Lucy developed a small mass on one mammary gland in April 2004, it was removed and diagnosis showed it to be a malignant tumour. Consultation with experts indicated that chemotherapy was not a fair option with this type of Cancer but we hoped surgery would be sufficient. Within 3 weeks of her first operation a further small lump appeared on another gland, this was removed together with several other glands but three weeks later another mass grew, Lucy was cheerful and in good form and we opted for further surgery to try and root out the cancer. Lucy recovered quickly from her last operation and was happy if a little tired, we knew this was the last operation we felt we could put her through, but any option was a good option.
---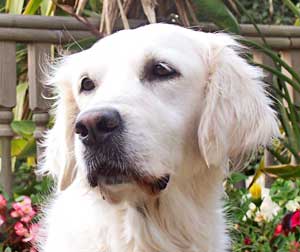 The last Photograph of Lucy take on 24/07/04
---
Just 3 weeks after her last operation Lucy became picky with her food, we hoped it was the hot weather, there were no other lumps and X-rays had show no sign of secondary tumours in her chest. Lucy was happy to eat when hand fed and was not distressed or upset, two days later she became short of breath, happy to be hand fed she still enjoyed a walk but within 24 hours her abdomen was swollen and she became uncomfortable. On the afternoon of Thursday 05/08/04 , Lucy's breathing was laboured and we took her, hoping the best and fearing the worst, on her last visit to our vet. An X-ray showed her heart to be elevated and it was clear that fluid was building up and her lungs could no longer cope - the cancer had spead to her chest. We had run out of options and defeated we did the last thing we could for our lovely girl and let her die in peace before she became distressed or afraid. In her life, Lucy never had cause to be frightened, distressed or unhappy, she lived loved and protected from the time she came to us until we lost her. At the end she died held and comforted by those whom she trusted and who loved her, she slipped peacefully and quickly away. Loosing Lucy leaves a huge gap in the kitchen, on the sofa and most of all - in our lives. Our thanks are due to, Mr. Martin Andrews of Cedar Vets in Alton for all his efforts on Lucy's behalf and for his kindness to her - and to us when - the inevitable became inevitable.
---
Lucy was a very kind and sweet, typically eager Golden Retriever who usually had something in her mouth to show off., she was a blonde who likes to have a good time, a real party girl who knew how to have fun and liked to be the heart and soul of everyone's party !
We Miss Her Very Much
---