Golden Retrievers can dig for England - and they frequently do!
---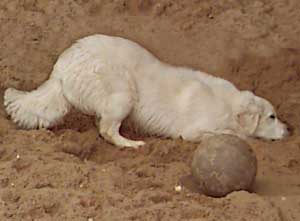 Golden Retrievers are great diggers
---
Golden Retrievers love the garden, they are experts at digging, grubbing up, pruning, modifying fences, trellis work, sheds and other structures and checking the quality of water in pools and ponds. If you want to combine an award winning garden with the ownership of a Golden Retriever, you will have your work cut out. Puppies will need to be taught from an early age where it is and where it is not appropriate to dig and be closely supervised in prized parts of the garden until they fully understand the rules. Remember that Goldens love to dig and to be fair you should allow them a place of their own where they can dig to their hearts content. A small area in the garden dug out and filled with clean, sharp sand will encourage your Golden to dig there in preference to the rest of the garden. Prized borders and beds should be fenced off to prevent harm until the puppy is old enough to know better and constant vigilance needs to be exercised to ensure that fences are not damaged or compromised by an enthusiastic young houdini. Always bear in mind that any damage or destruction is a result of your lack of supervision, vigilance and training - it is never an act of malice or spite by your puppy - dogs are never vengeful, spiteful or malicious - that is the preserve of humans.