It is a common belief that Golden Retrievers are always good pets but good nature is not a fluke -
it stems from good breeding.
---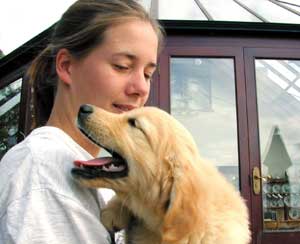 Excellent temperament is not a fluke but the result of careful breeding
---
Golden Retrievers should by nature be kind, friendly and tolerant (this is what is called for by the Breed Standard) to that we would add, gentle, calm, biddable, willing and fun loving. The Golden Retriever is first and foremost a family dog with the desire to join in whatever is going on - who ever is leading the fun. They are not political dogs, picking and choosing who will and who won't be respected and they don't tend to have an agenda of their own, they like to be included and they like to treated as part of the family - whether the family is two - you and your Golden or twenty with grandparents, parents, sisters and brothers, children and grandchildren. Having said all that Goldens have their difficulties and we invite you to explore whether this large, hairy, fun-loving, mud-loving, coat-shedding, invasive dog is the sort of friend with which you wish to share your home and your life.