---
In addition to the things we all have to do every day to keep the dogs happy and the home in good order, there are a other more specialist activities that are also very important and in which our Au Pair Dog Carers have the opportunity to share.
---

See more information on Anna Åström's home page
---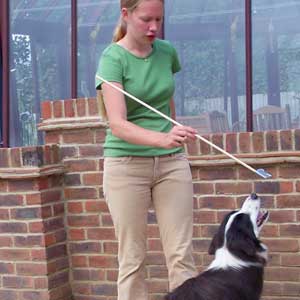 Target training
---
Mastamariner works with training4dogs.co.uk to running a host of dog training and other canine activities. Dog Training Classes take place several times a week and consist of Puppy Socialisation Classes for baby puppies up to 16 - 18 weeks and general Dog Training Classes for older dogs working towards the Kennel Club Good Citizens Dog Scheme tests. Au Pair Dog Carers are expected to help at classes and to attend classes to work with our own dogs. Au Pair Dog Carers are designated one or more dogs to work with on a one to one basis to practice and improve their dog training skills.
---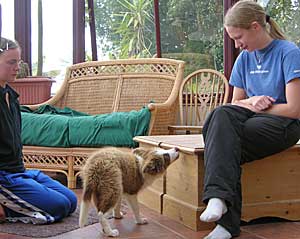 Working on Clicker Training Techniques
---
Training4dogs also runs some special classes such as Clicker, and Au Pair Dog Carers help with those too as well as having the opportunity to learn in class and to train dogs at home for demonstrations in class.
---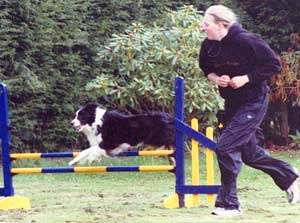 Helping at Agility Classes means lots of running
---
During the from Spring until mid Autumn training4dogs runs agility classes on our own agility course. Dog Carer Au Pairs help with classes, assisting in setting up the equipment, and in helping clients learning how to tackle each obsticle.
---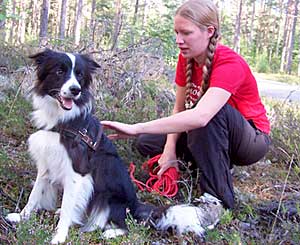 Preparing to demonstrate tracking
---
In the Winter training4dogs runs tracking courses in the local area and Au Pair Dog Carers help with laying the track and assisting clients to work with their dogs.
---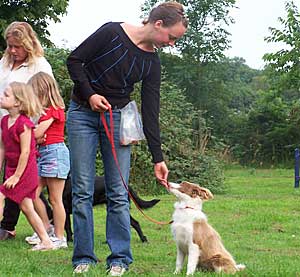 Joining in classes gives everyone a chance to train
---
The degree to which Au Pair Dog Carers are involved in all these activities depends on their interest, skill and experience. For those who have few or no existing skills, there is the opportunity to learn and join in at classes. For those who already have specific skills and qualifications in dog training there can be the opportunity to help with class instruction and if appropriate to take classes in specific activities. All our Au Pair Dog Carers need to assist to some extent with classes.
---
Photographing Puppies takes a lot patience
---
At Mastamariner we are also involved in Photographic Work, most of it with dogs, and Au Pair Dog Carers have the opportunity to help with photo shoots both at home and on location. This means helping to set up the equipment and handling dogs to their best advantage on shoots. There is an opportunity to learn photographic and studio techniques and photo editiing applications like Photoshop. For those with a photographic interest there is an opportunity to take part in photo sessions from behind the camera too.
---
Helping with and taking part in, our Training Activities and Photo Sessions is something all our Au Pair Dog Carers need to be keen to get involved with, we don't look particularly for those who are experienced in any field but we do need young people are keen to join in, eager to learn and who enjoy helping people to enjoy their dogs.
---