---
Our very special girl.
Cider epitomised the essential Border Collie, devoted, keen, good natured, always ready to get involved. She was the matriarch of the Mastamariner Border Collies, a strong and talented worker, a commanding show girl, a devoted mother, a loyal and faithful companion, an utterly dependable ambassador, the guardian of the home and a close and trusted friend.
Cider was Merry's big sister, the mother of Hercules, Scrumpy and Esther, Deborah and Britannia's aunt, Grand Mother to Rachel. The head of the family, respected, loved and honoured by all her extended family.
Cider was everything one could ask for in a border collie, she could turn her paw to anything and passed her versatility on to her children who have proved themselves as herders, showdogs, agility dogs and best all, PEOPLE DOGS.
In 2006 Cider became slow and generally "out of sorts" there followed a period of extended investigation over several weeks and months that eventually revealed a Parathyroid Tumour, an uncommon and potentially fatal conditon. Fortunatly our vet was willing to take a leap into the unknown and following surgery we spent several months trying to tempt her parathyroid glands back into action with decreasing doses of rolcaltrol until finally she began to manage her own calcium levels. She effected a good recovery and was back to her old self within the year.
She won the battle but sadly old age took took its toll and our friend lost ground over the latter montths of 2008, on 29th January 2009 Cider, although fastidious and clean to the last was bearly able to stand, she finally finally lost the war.
Cider's death marked the end of an era for us and passing of a very special and beloved friend who will never be forgotton. Cider's children, grandchildren and great grandchildren are constant reminders of the joy and pride that Cider brought us thoughout her life.
---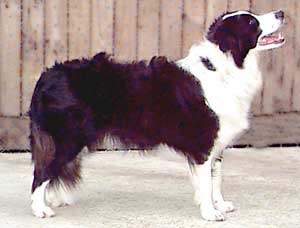 ---
Cider was very special, she gave us Hercules, Scrumpy and Esther and "adopted" Deborah as her own, she wss the grandmother of Rachel, the first among our equals and a loved and valued companion.
---
---
And in her spare time,
Cider who taught the junior handlers,
Cider who ruled the roost,
Cider who defended us every day from the surprise attack of the Royal Mail
and
CIDER OUR FRIEND
---